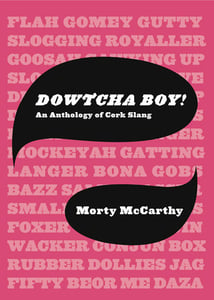 €

8.00
Dowtcha Boy! - An Anthology of Cork Slang
Becoming familiar with Cork lingo
isn't easy but Dowtcha Boy aims to
make the reader 'crabbit' (cute,
wise to) with little effort. It's 'simple
out', like! The book developed from
one man's love of Cork's unique language.
Long before The Langer catapulted
Cork slang into national
awareness, Morty McCarthy went
on a mission to record Cork's quirky
words and expressions and make
them available to the public.
On his travels around his native city
Morty collected over 400 unique
words and phrases voice by Corkonians.
Memories will be jogged and
the humorous illustrations by Fergal
Keane will surely make it worth a
sconce!